The day the Watergate scandal started – level 2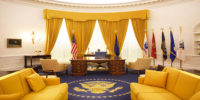 17-06-1972
It is Saturday, June 17, 1972. Sometime after midnight, the security guard of the Watergate complex in Washington saw something strange. He saw tape on some of the doors. The doors could be closed, but they stayed unlocked.
The guard called the police. When the police came, they found five men who broke into the offices of the Democratic Party. The five men were sent by the Republican Party.
An investigation began, and it became clear that President Richard Nixon, who was also a member of the Republican Party, knew about the five men.
It was a big scandal, and President Nixon had to resign in August 1974. It was the first resignation of an American president in history.
Difficult words: tape (flat narrow material which has glue on one side), unlocked (not locked), break into (to enter a building illegally by using force), resign (to officially say that you are leaving your job).
What impact do you think the Watergate scandal had on subsequent US politics?
LEARN 3000 WORDS with DAYS IN LEVELS
Days in Levels is designed to teach you 3000 words in English. Please follow the instructions
below.
How to improve your English with Days in Levels: 

Test
Do the test at Test Languages.
Go to your level. Go to Level 1 if you know 1-1000 words. Go to Level 2 if you know 1000-2000 words. Go to Level 3 if you know 2000-3000 words.

Reading
Read two new articles article at Days in Levels every day.
Read one previous article too and check if you remember all new words.

Listening
Listen to the new article and read the text at the same time.
Listen to the new article without reading the text.

Writing
Answer the question under the new article and write your answer in the comments.