The day the US stopped fighting in Vietnam – level 2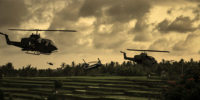 27-01-1973
Vietnam was divided into North Vietnam and South Vietnam since the 1950s. The Communists controlled the north. The Americans were helping South Vietnam. Russia and China were helping North Vietnam.
Many US soldiers were fighting in Vietnam. They were usually young men. Their situation wasn't easy.
They were in a new environment for them. The jungle was full of insects and dangerous snakes. The weather was extremely hot. The enemies often surprised them because they looked like usual farmers.
The war was long and the losses on the American side were very big. People in America didn't like the war. They started to demonstrate against it.
On January 27, 1973, an agreement to end the war was signed in Paris.
Difficult words: Communist (people in a government called Communism which is a type of socialism), since (from), environment (things around you), insect (a small animal with six legs), loss (the death of a person).
What do you think were the motivations of the US soldiers to fight in Vietnam?
LEARN 3000 WORDS with DAYS IN LEVELS
Days in Levels is designed to teach you 3000 words in English. Please follow the instructions
below.
How to improve your English with Days in Levels: 

Test
Do the test at Test Languages.
Go to your level. Go to Level 1 if you know 1-1000 words. Go to Level 2 if you know 1000-2000 words. Go to Level 3 if you know 2000-3000 words.

Reading
Read two new articles article at Days in Levels every day.
Read one previous article too and check if you remember all new words.

Listening
Listen to the new article and read the text at the same time.
Listen to the new article without reading the text.

Writing
Answer the question under the new article and write your answer in the comments.