The day the Trans-Siberian Railway construction began – level 2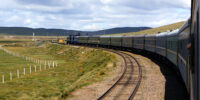 31-05-1891
On May 31, 1891, the construction of the Trans-Siberian Railway officially began.
The construction of the railway was a massive project which needed the force of over 90,000 workers who sometimes worked under very difficult conditions.
The railway was completed after 25 years and was over 9,000 kilometers long. It was the longest railway in the world.
The railway, which directly connects Moscow with Vladivostok, played an important role in the development of Russia's economy and industry because it allowed transportation of goods and people across the big country.
What was the main purpose of the Trans-Siberian Railway?
LEARN 3000 WORDS with DAYS IN LEVELS
Days in Levels is designed to teach you 3000 words in English. Please follow the instructions
below.
How to improve your English with Days in Levels: 

Test
Do the test at Test Languages.
Go to your level. Go to Level 1 if you know 1-1000 words. Go to Level 2 if you know 1000-2000 words. Go to Level 3 if you know 2000-3000 words.

Reading
Read two new articles article at Days in Levels every day.
Read one previous article too and check if you remember all new words.

Listening
Listen to the new article and read the text at the same time.
Listen to the new article without reading the text.

Writing
Answer the question under the new article and write your answer in the comments.