The day the Tour de France began – level 3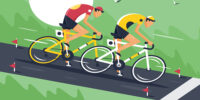 01-07-1903
The first Tour de France began on July 1, 1903, in Paris.
The race was organized by a French newspaper. The aim was to increase its circulation.
The race lasted 19 days, covering a total distance of 2,428 kilometers.
The first Tour de France was so difficult that only 21 of the 60 participants finished the race.
The race was a huge success, resulting in a significant increase in the newspaper's circulation. Before the race, the newspaper had a daily circulation of around 25,000 copies, which more than doubled to around 65,000 copies per day during the race.
The Tour de France has since become one of the most famous and prestigious bicycle races in the world, with millions of fans watching each year.
Difficult words: circulation (copies of a newspaper sold each day), participant (a person who is active in a competition), prestigious (much respected).
What challenges have cyclists faced throughout the course of the Tour de France?
LEARN 3000 WORDS with DAYS IN LEVELS
Days in Levels is designed to teach you 3000 words in English. Please follow the instructions
below.
How to improve your English with Days in Levels: 

Test
Do the test at Test Languages.
Go to your level. Go to Level 1 if you know 1-1000 words. Go to Level 2 if you know 1000-2000 words. Go to Level 3 if you know 2000-3000 words.

Reading
Read two new articles article at Days in Levels every day.
Read one previous article too and check if you remember all new words.

Listening
Listen to the new article and read the text at the same time.
Listen to the new article without reading the text.

Writing
Answer the question under the new article and write your answer in the comments.