The day the Tour de France began – level 1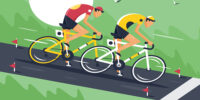 01-07-1903
The first Tour de France starts on July 1, 1903, in Paris.
A French newspaper organizes the race because it wants to have more readers.
The race is 19 days long. It is 2,428 kilometers long.
The first Tour de France is very difficult. 60 riders start, but only 21 riders finish the race.
The race is a success. During the race, the number of readers goes from 25,000 per day to 65,000.
Today, the Tour de France is one of the most famous bicycle races in the world.
Difficult words: race (a moment when one person wants to be better than other people), success (when you get what you want).
What are some of the challenges that the riders face during the first Tour de France?
LEARN 3000 WORDS with DAYS IN LEVELS
Days in Levels is designed to teach you 3000 words in English. Please follow the instructions
below.
How to improve your English with Days in Levels: 

Test
Do the test at Test Languages.
Go to your level. Go to Level 1 if you know 1-1000 words. Go to Level 2 if you know 1000-2000 words. Go to Level 3 if you know 2000-3000 words.

Reading
Read two new articles article at Days in Levels every day.
Read one previous article too and check if you remember all new words.

Listening
Listen to the new article and read the text at the same time.
Listen to the new article without reading the text.

Writing
Answer the question under the new article and write your answer in the comments.