The day the top of Mount Everest was reached – level 3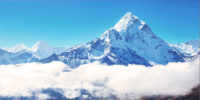 29-05-1953
Mount Everest is the highest mountain in the world. It rises to a height of 8848 meters.
On March 10, 1953, a British expedition arrives in the Himalayas. The expedition includes 11 climbers, 20 Sherpa guides, and more than 350 porters. Edmund Hilary from New Zealand is among the members of the expedition. He is 33 years old, and it will be his second attempt to conquer this mountain.
In the camp at the height of eight thousand meters, it is decided that two climbers will try to reach the top. Hillary isn't among them. The two men come within one hundred meters of the top, but they have to turn back because of an oxygen system failure.
Three days later, Edmund Hillary and Tenzing Norgay are chosen for the second attempt to get to the top of Mount Everest.
Step by step, they fight their way through the ice and snow. They have to stop and rest very often. The path is steeper and steeper. Yet on May 29, 1953, they reach the highest point on the Earth. They stay on the top for 15 minutes, and then they start an equally exhausting and dangerous journey back down.
Difficult words: Sherpa (a Himalayan person who works as a guide), porter (a person whose job is to carry heavy things), conquer (to succeed in climbing to the top of a mountain), failure (a situation when a machine stops working properly), steep (a steep road goes up very quickly).
What other challenges did Edmund Hillary and Tenzing Norgay have to face while climbing Mount Everest?
LEARN 3000 WORDS with DAYS IN LEVELS
Days in Levels is designed to teach you 3000 words in English. Please follow the instructions
below.
How to improve your English with Days in Levels: 

Test
Do the test at Test Languages.
Go to your level. Go to Level 1 if you know 1-1000 words. Go to Level 2 if you know 1000-2000 words. Go to Level 3 if you know 2000-3000 words.

Reading
Read two new articles article at Days in Levels every day.
Read one previous article too and check if you remember all new words.

Listening
Listen to the new article and read the text at the same time.
Listen to the new article without reading the text.

Writing
Answer the question under the new article and write your answer in the comments.