The day the Titanic sank – level 2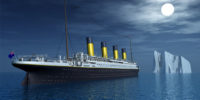 15-04-1912
In September 1985, the wreck of the Titanic was found at the bottom of the Atlantic Ocean. It was after 73 years.
In 1912, the Titanic was the largest, most modern, and most luxurious ship in the world. Some people said that it wasn't possible to sink it.
The first and last journey of the Titanic was from the British Southampton to New York.
It was at 23:39 pm on April 14, 1912, when a man in a crow's nest saw a big iceberg in front of the ship. The ship turned sharply to the left and hit a huge iceberg. Water began to enter the ship in six big compartments.
There were only twenty lifeboats on the Titanic. If full, they would be able to take only half of the people on board. More than 1,500 people died. It was one of the biggest sea disasters in history.
Difficult words: sink (go under water), crow's nest (small box at the top of a ship), compartment (a section).
What do you think about this day?
LEARN 3000 WORDS with DAYS IN LEVELS
Days in Levels is designed to teach you 3000 words in English. Please follow the instructions
below.
How to improve your English with Days in Levels: 

Test
Do the test at Test Languages.
Go to your level. Go to Level 1 if you know 1-1000 words. Go to Level 2 if you know 1000-2000 words. Go to Level 3 if you know 2000-3000 words.

Reading
Read two new articles article at Days in Levels every day.
Read one previous article too and check if you remember all new words.

Listening
Listen to the new article and read the text at the same time.
Listen to the new article without reading the text.

Writing
Answer the question under the new article and write your answer in the comments.