The day the telephone was patented – level 3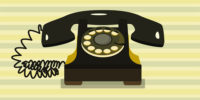 07-03-1876
Since 1873, Alexander Graham Bell was trying to find a way to transmit sound via electronic devices. He dedicated all his free time to experiments, but for a long time, he was without success.
Then in June 1875, Bell successfully transmitted a tone between two devices. It wasn't voice transmission yet, but it was still a big step forward.
Nine months later, on March 7, 1876, Bell went to the patent office to have his idea of a telephone patented. On the same day as Bell, another inventor, Elisha Gray, also went to the patent office to patent his telephone. Unfortunately for Gray, Bell arrived at the patent office about 2 hours before him.
Bell then offered the telephone to the US and British governments, but neither was interested in the invention. From the British, he even got an answer that such a device for fast long-distance communication wasn't needed because their system with young boys who delivered quick messages among people was good enough.
A year later, however, everything was different. Bell demonstrated his device at the exhibition in Philadelphia and won the first prize.
Subsequently, phones started to be mass-produced and introduced to other countries. Bell became a rich man. For mankind, a new era of fast long-distance communication began.
Difficult words: transmit (to send), via (through), device (a machine), inventor (a person who has ideas for new machines), neither (none of them), invention (a new useful thing), subsequently (after that), mankind (all people).
What other inventions were competing with Bell's telephone in the patent office on March 7, 1876?
LEARN 3000 WORDS with DAYS IN LEVELS
Days in Levels is designed to teach you 3000 words in English. Please follow the instructions
below.
How to improve your English with Days in Levels: 

Test
Do the test at Test Languages.
Go to your level. Go to Level 1 if you know 1-1000 words. Go to Level 2 if you know 1000-2000 words. Go to Level 3 if you know 2000-3000 words.

Reading
Read two new articles article at Days in Levels every day.
Read one previous article too and check if you remember all new words.

Listening
Listen to the new article and read the text at the same time.
Listen to the new article without reading the text.

Writing
Answer the question under the new article and write your answer in the comments.