The day the Sydney Opera House opened – level 2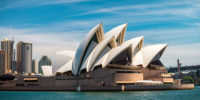 20-10-1973
The Sydney Opera House is a very special building. Before the construction started, a total of 233 proposals came to the competition for its future appearance. A not very well-known architect from Denmark won the proposal competition. He hadn't visited Australia before, but his design which was similar to a sailboat was perfect for Australia.
The construction began in 1959 and it was completed in 1973. It was clear to everyone who saw the new building that it was something special.
When the Sydney Opera House opened on October 20, 1973, it was a great moment. Queen Elizabeth II of Great Britain also came to see the event. Soon it entered architecture text books and became a symbol of Australia.
The building goes 25 meters under sea level and 67 meters above sea level.
The Sydney Opera house is visited by over two million people a year.
Difficult words: event (an important or interesting moment), proposal (a plan for a building), appearance (how something looks).
What were some of the other proposals that were submitted to the competition for the design of the Sydney Opera House?
LEARN 3000 WORDS with DAYS IN LEVELS
Days in Levels is designed to teach you 3000 words in English. Please follow the instructions
below.
How to improve your English with Days in Levels: 

Test
Do the test at Test Languages.
Go to your level. Go to Level 1 if you know 1-1000 words. Go to Level 2 if you know 1000-2000 words. Go to Level 3 if you know 2000-3000 words.

Reading
Read two new articles article at Days in Levels every day.
Read one previous article too and check if you remember all new words.

Listening
Listen to the new article and read the text at the same time.
Listen to the new article without reading the text.

Writing
Answer the question under the new article and write your answer in the comments.