The day the Sydney Opera House opened – level 1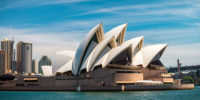 20-10-1973
The Sydney Opera House is a very special building. When people start to make this building, they have 233 plans from many builders. Yet only one plan can win.
It is a plan by a builder from Denmark. He is not very famous. His design is similar to a ship. It is perfect for Australia.
The work on the building starts in 1959. It is finished in 1973. When people see the new building, they know that it is something special.
The Sydney Opera House is opened on October 20, 1973. It is a great moment. Queen Elizabeth II of Great Britain also comes to see this moment.
The building goes 25 meters under water and 67 meters above water. Soon people start to write about the building in building textbooks.
The Sydney Opera House is now a symbol of Australia. Two million people visit this building every year.
Difficult words: design (a picture of a house), similar (almost the same), above (in a higher position), symbol (a thing or a picture that shows something).
What unique challenges had to be overcome in order to construct the Sydney Opera House?
LEARN 3000 WORDS with DAYS IN LEVELS
Days in Levels is designed to teach you 3000 words in English. Please follow the instructions
below.
How to improve your English with Days in Levels: 

Test
Do the test at Test Languages.
Go to your level. Go to Level 1 if you know 1-1000 words. Go to Level 2 if you know 1000-2000 words. Go to Level 3 if you know 2000-3000 words.

Reading
Read two new articles article at Days in Levels every day.
Read one previous article too and check if you remember all new words.

Listening
Listen to the new article and read the text at the same time.
Listen to the new article without reading the text.

Writing
Answer the question under the new article and write your answer in the comments.