The day the Statue of Liberty was unveiled – level 1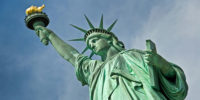 28-10-1886
The Statue of Liberty is a symbol of New York. It is 46 meters high. 4 million tourists visit this statue every year. It is a symbol of help from French people to American people.
The story of the Statue of Liberty starts in 1865. A French professor speaks to his friends. He speaks about the War of Independence. French people help Americans during this war.
The professor says that French people can give the Americans a great monument. A young man Frédéric Bartholdi is also at the dinner. He has a dream. He wants to make a big statue.
He makes a picture of a woman. The picture is a symbol of freedom. Then he starts to work on the statue.
In June 1884, the Statue of Liberty is finished in Paris. Now, people must make smaller pieces from the statue. They put the statue in boxes. They send the statue to New York.
On October 28, 1886, Frédéric Bartholdi is in New York. The American president is there, too. Thousands of other people are there. Frédéric Bartholdi shows the statue to all the people in New York.
Difficult words: liberty (freedom), symbol (a picture or a thing that means something else), independence (political freedom), dinner (food in the evening).
What is the significance of the Statue of Liberty?
LEARN 3000 WORDS with DAYS IN LEVELS
Days in Levels is designed to teach you 3000 words in English. Please follow the instructions
below.
How to improve your English with Days in Levels: 

Test
Do the test at Test Languages.
Go to your level. Go to Level 1 if you know 1-1000 words. Go to Level 2 if you know 1000-2000 words. Go to Level 3 if you know 2000-3000 words.

Reading
Read two new articles article at Days in Levels every day.
Read one previous article too and check if you remember all new words.

Listening
Listen to the new article and read the text at the same time.
Listen to the new article without reading the text.

Writing
Answer the question under the new article and write your answer in the comments.