The day the Soviets invaded Afghanistan – level 2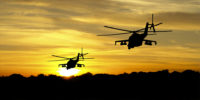 25-12-1979
On December 25, 1979, three hundred Soviet planes with 30,000 soldiers flew to Afghanistan. They landed at Kabul Airport. The Soviet army immediately began to occupy the city. In the next days, tanks and other Soviet soldiers entered Afghanistan from the north.
In the first few days of the Soviet invasion, the President of Afghanistan was killed, and a pro-Soviet leader took his place. The Soviets occupied Afghanistan because they wanted a pro-Soviet government there.
Many local people didn't like the invasion and they started to fight the Soviets. They were fighting in the mountains. The Soviet army couldn't beat them. There were two reasons for that. One was the difficult terrain in the mountains, and the second reason was financial support from the United States to the local people.
The conflict was nine years long and it cost the Soviets a lot of money. The Soviets finally decided to stop fighting and they left Afghanistan on February 15, 1989.
Difficult words: Soviet (from the Soviet Union), occupy (to enter a place and control it by the army), invasion (the arrival in a place which you want to control by force), terrain (a type of land), conflict (a fight).
What impact did the US financial support have on the Soviet withdrawal from Afghanistan?
LEARN 3000 WORDS with DAYS IN LEVELS
Days in Levels is designed to teach you 3000 words in English. Please follow the instructions
below.
How to improve your English with Days in Levels: 

Test
Do the test at Test Languages.
Go to your level. Go to Level 1 if you know 1-1000 words. Go to Level 2 if you know 1000-2000 words. Go to Level 3 if you know 2000-3000 words.

Reading
Read two new articles article at Days in Levels every day.
Read one previous article too and check if you remember all new words.

Listening
Listen to the new article and read the text at the same time.
Listen to the new article without reading the text.

Writing
Answer the question under the new article and write your answer in the comments.