The day the Soviets invaded Afghanistan – level 1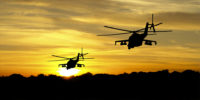 25-12-1979
It is December 25, 1979. Three hundred planes fly to Afghanistan. There are 30,000 Soviet soldiers in these planes. They stop at Kabul Airport in Afghanistan. The Soviet army starts to control the city. In the next days, tanks and other Soviet soldiers come to Afghanistan from the north.
In the first days of the invasion, the President of Afghanistan is killed. A pro–Soviet leader takes his job. The Soviet army goes to Afghanistan because they want a pro-Soviet government there.
Many local people don't like the invasion. They start to fight the Soviet army. They are fighting in the mountains. The Soviet army can't win in Afghanistan.
There are two reasons for it. One reason is the difficult terrain in the mountains. The second reason is the United States gives the local people money.
The conflict is nine years long. It is very expensive for the Soviet army. After nine years, the Soviet army stops the fight. The Soviet army leaves Afghanistan on February 15, 1989.
Difficult words: Soviet (from the Soviet Union), army (many soldiers), invasion (when people come to a place which they want to control by force), pro- (in support of), reason (why something happens), terrain (a type of land).
What were the long-term effects of the Soviet Invasion of Afghanistan on the region?
LEARN 3000 WORDS with DAYS IN LEVELS
Days in Levels is designed to teach you 3000 words in English. Please follow the instructions
below.
How to improve your English with Days in Levels: 

Test
Do the test at Test Languages.
Go to your level. Go to Level 1 if you know 1-1000 words. Go to Level 2 if you know 1000-2000 words. Go to Level 3 if you know 2000-3000 words.

Reading
Read two new articles article at Days in Levels every day.
Read one previous article too and check if you remember all new words.

Listening
Listen to the new article and read the text at the same time.
Listen to the new article without reading the text.

Writing
Answer the question under the new article and write your answer in the comments.