The day the South Pole was reached – level 3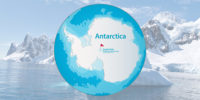 14-12-1911
Norwegian explorer Roald Amundsen and British explorer Robert Falcon Scott long for reaching the South Pole. Each of them wants to be the first man on the South Pole.
At the beginning of 1911, both expeditions arrive at the Antarctic. The bases are set up on the coast. Both expeditions use the following months for building supply warehouses.
When the Antarctic winter ends, Amundsen and four of his men head for the pole. They have dog-drawn sleighs and a 10-day lead. Scott has ponies, but it is still too cold for them. Yet, Scott believes in success of his expeditions because he has also a snowmobile.
On December 14, 1911, Amundsen stands on the South Pole. His team stays there for 3 days. He leaves a tent with the Norwegian flag on the spot. All the men return to the base safely. They traveled 3000 km on foot and the journey took 99 days.
Scott's expedition arrives at the pole more than a month later, on January 17, 1912. In such extreme conditions, the snowmobile stops working and even the ponies cannot cope with the frost. Nobody survives the way back.
Difficult words: long for (to have a strong desire to do something), set up (to build something not permanent), warehouse (a big building for goods), sleigh (a large open vehicle for traveling over snow pulled by animals), pony (a small horse), snowmobile (a small vehicle with a motor for traveling over snow).
What do you think were the biggest advantages that Amundsen's expedition had over Scott's?
LEARN 3000 WORDS with DAYS IN LEVELS
Days in Levels is designed to teach you 3000 words in English. Please follow the instructions
below.
How to improve your English with Days in Levels: 

Test
Do the test at Test Languages.
Go to your level. Go to Level 1 if you know 1-1000 words. Go to Level 2 if you know 1000-2000 words. Go to Level 3 if you know 2000-3000 words.

Reading
Read two new articles article at Days in Levels every day.
Read one previous article too and check if you remember all new words.

Listening
Listen to the new article and read the text at the same time.
Listen to the new article without reading the text.

Writing
Answer the question under the new article and write your answer in the comments.