The day the South Pole was reached – level 2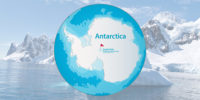 14-12-1911
Roald Amundsen from Norway and Robert Falcon Scott from England want to go to the South Pole. Each of them wants to be the first man on the South Pole.
At the beginning of 1911, both expeditions arrive at the Antarctic. They prepare for many months on the coast.
When the Antarctic winter ends, Amundsen and four of his men start the journey to the pole. They have sleighs pulled by dogs. Scott has ponies. Amundsen starts the journey 10 days before Scott.
On December 14, 1911, Amundsen stands on the South Pole. His team stays there for 3 days. He leaves a tent with the Norwegian flag on the pole. All the men return to the coast safely. They went 3000 km on foot and the journey took 99 days.
Scott's expedition arrives at the pole more than a month later, on January 17, 1912. Unfortunately, they are caught in a bad snowstorm on the way back. Nobody survives the journey.
Difficult words: expedition (a journey to explore somewhere), coast (part of a land where the sea starts), sleigh (a thing for traveling over snow pulled by animals), pony (a small horse), unfortunately (sadly).
What strategies do you think Amundsen and Scott employed to get to the South Pole first?
LEARN 3000 WORDS with DAYS IN LEVELS
Days in Levels is designed to teach you 3000 words in English. Please follow the instructions
below.
How to improve your English with Days in Levels: 

Test
Do the test at Test Languages.
Go to your level. Go to Level 1 if you know 1-1000 words. Go to Level 2 if you know 1000-2000 words. Go to Level 3 if you know 2000-3000 words.

Reading
Read two new articles article at Days in Levels every day.
Read one previous article too and check if you remember all new words.

Listening
Listen to the new article and read the text at the same time.
Listen to the new article without reading the text.

Writing
Answer the question under the new article and write your answer in the comments.