The day the Six-Day War started – level 3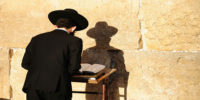 05-06-1967
In May 1967, Egypt closed the Straits of Tiran for Israeli ships, blocking its only port in the Red Sea. Soon, the Six-Day War between Israel and its Arabian neighbors began.
On the morning of June 5, 1967, almost the entire Israeli air force took off and attacked Egyptian air bases. Egyptian planes stood at the bases completely unprotected. The result was devastating. 338 Egyptian planes, which were 90% of the air force, were destroyed.
On the same day, Israel defeated the Jordanian and Syrian air forces and completely took control of the airspace in the area. At that moment, the Israeli planes could fully support ground operations. The main enemy, Egypt, was defeated and Israel had access to the Red Sea again.
Israel also broke through Jordan's defense of the old city of Jerusalem which Jordan had controlled until then. After 20 years, when the Jews were not allowed there; their most sacred place was in their hands again.
On the fifth day of the war, Israel launched an attack on the Syrian Golan Heights which it also managed to get under control.
The war changed the map of the whole area. However, it didn't solve the situation. Soon, more wars came, as well as many attacks on Israel by Palestinians whose territories were occupied by Israel.
Difficult words: strait (a narrow area of water between two areas of land), defeat (to win over somebody), sacred (relating to a god), launch (to start).
What long-term effects did the Six-Day War have on the region and its people?
LEARN 3000 WORDS with DAYS IN LEVELS
Days in Levels is designed to teach you 3000 words in English. Please follow the instructions
below.
How to improve your English with Days in Levels: 

Test
Do the test at Test Languages.
Go to your level. Go to Level 1 if you know 1-1000 words. Go to Level 2 if you know 1000-2000 words. Go to Level 3 if you know 2000-3000 words.

Reading
Read two new articles article at Days in Levels every day.
Read one previous article too and check if you remember all new words.

Listening
Listen to the new article and read the text at the same time.
Listen to the new article without reading the text.

Writing
Answer the question under the new article and write your answer in the comments.