The day the Panama Canal opened – level 2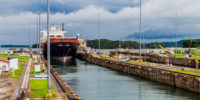 15-08-1914
The first idea of building a canal between the Atlantic and Pacific oceans came from the Spanish in the 16th century. At that time, it was only an idea because it wasn't possible to build such a thing.
The real construction of the canal started in 1881 by the French. Thousands of workers came to build the canal. They worked in very hard conditions and were killed by diseases. 20,000 of them died. There were also frequent floods and difficult terrain. When the money was finished, the work was stopped in 1889. It was stopped for five years.
Then, the Americans bought the license and continued the work. They had a better technical solution for the canal. It took 10 years to finish the canal. It was 82 kilometers long. The Panama Canal was opened on August 15, 1914.
Difficult words: century (100 years), disease (an illness), terrain (land), solution (an answer to a problem).
What advances in engineering and construction techniques made it possible for the Americans to achieve success with the Panama Canal after the French had failed?
LEARN 3000 WORDS with DAYS IN LEVELS
Days in Levels is designed to teach you 3000 words in English. Please follow the instructions
below.
How to improve your English with Days in Levels: 

Test
Do the test at Test Languages.
Go to your level. Go to Level 1 if you know 1-1000 words. Go to Level 2 if you know 1000-2000 words. Go to Level 3 if you know 2000-3000 words.

Reading
Read two new articles article at Days in Levels every day.
Read one previous article too and check if you remember all new words.

Listening
Listen to the new article and read the text at the same time.
Listen to the new article without reading the text.

Writing
Answer the question under the new article and write your answer in the comments.