The day the Panama Canal opened – level 1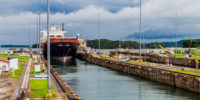 15-08-1914
Panama is a country in Central America. People want to build a canal there.
In 1881, the French start to build the canal. It is very hard. Many workers are ill. Many workers die. The land is difficult for the work. The French don't have money. They must stop the work in 1889.
Five years later, the Americans buy the license. They continue the work. They work for 10 years. The canal is finished on August 15, 1914. The canal is 82 kilometers long.
Difficult words: canal (a long way full of water), difficult (not easy), license (an official document which says that you can do something).
What are the benefits of the Panama Canal?
LEARN 3000 WORDS with DAYS IN LEVELS
Days in Levels is designed to teach you 3000 words in English. Please follow the instructions
below.
How to improve your English with Days in Levels: 

Test
Do the test at Test Languages.
Go to your level. Go to Level 1 if you know 1-1000 words. Go to Level 2 if you know 1000-2000 words. Go to Level 3 if you know 2000-3000 words.

Reading
Read two new articles article at Days in Levels every day.
Read one previous article too and check if you remember all new words.

Listening
Listen to the new article and read the text at the same time.
Listen to the new article without reading the text.

Writing
Answer the question under the new article and write your answer in the comments.