The day the Nuremberg trials started – level 3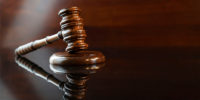 20-11-1945
World War II was far from over, and the Allies were already thinking about how to deal with the highest-ranking Nazis who had started the war.
The Americans insisted on a fair trial and convinced others of its necessity. Thus, after the war was over, on November 20, 1945, an international military tribunal with 22 main war criminals was launched in Nuremberg.
The judges had over 2,500 documents. They were records of the meetings with Hitler, speeches, and orders that the Nazis had given. There was also footage taken by the Allies during the liberation of the concentration camps.
The court met more than 400 times. The defendants mostly admitted that crimes had been committed but that they were just following orders.
Three of the defendants were set free. Four sentences were ranging from 10 to 20 years, 3 were life sentences, and there were 12 death sentences by hanging.
The Nuremberg trials were historically the first trials of war criminals.
Difficult words: the Allies (the group of countries who fought together against Germany in World War II), trial (a process in which people are judged), tribunal (a court process), launch (to start), footage (a film or video), defendant (a person who is judged), sentence (a punishment that a judge gives).
What do you think the outcome of the Nuremberg Trials says about international attitudes to justice and accountability during World War II?
LEARN 3000 WORDS with DAYS IN LEVELS
Days in Levels is designed to teach you 3000 words in English. Please follow the instructions
below.
How to improve your English with Days in Levels: 

Test
Do the test at Test Languages.
Go to your level. Go to Level 1 if you know 1-1000 words. Go to Level 2 if you know 1000-2000 words. Go to Level 3 if you know 2000-3000 words.

Reading
Read two new articles article at Days in Levels every day.
Read one previous article too and check if you remember all new words.

Listening
Listen to the new article and read the text at the same time.
Listen to the new article without reading the text.

Writing
Answer the question under the new article and write your answer in the comments.