The day the Nuremberg trials started – level 1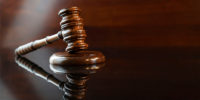 20-11-1945
It is the end of World War II. The USA, France, England, and Russia win the war. People in America want a trial with the Nazi leaders. The other countries agree.
The trial starts on November 20, 1945. There are 22 Nazi leaders. There are many judges. The judges have 2,500 documents from World War II. The judges also have films from the concentration camps.
The judges have 400 meetings. At the end of the trial, three Nazi leaders are free. Seven go to prison. Twelve Nazi leaders must die.
The Nuremberg trials are the first trials with war criminals.
Difficult words: trial (a process when a judge decides if someone is innocent or guilty), Nazi leaders (people who control Germany in World War II), judge (a person who judges or decides a trial), concentration camp (a place where people keep other people as prisoners), criminal (a person who does very bad things).
What are the lasting implications of the Nuremberg trials for international justice?
LEARN 3000 WORDS with DAYS IN LEVELS
Days in Levels is designed to teach you 3000 words in English. Please follow the instructions
below.
How to improve your English with Days in Levels: 

Test
Do the test at Test Languages.
Go to your level. Go to Level 1 if you know 1-1000 words. Go to Level 2 if you know 1000-2000 words. Go to Level 3 if you know 2000-3000 words.

Reading
Read two new articles article at Days in Levels every day.
Read one previous article too and check if you remember all new words.

Listening
Listen to the new article and read the text at the same time.
Listen to the new article without reading the text.

Writing
Answer the question under the new article and write your answer in the comments.