The day the Nobel Prizes are awarded – level 3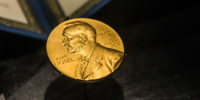 10-12-1901
The Nobel Prize is the most prestigious prize a scientist, writer, economist, or politician can receive. It is awarded for physics, chemistry, medicine, literature, economics, and peace.
In 1888, Alfred Nobel, then known as the inventor of dynamite, realized that he could be remembered primarily as the man who invented the thing that kills people. That thought terrified him. Therefore, he decided to donate 94% of his large fortune to a fund from which awards would be given each year for outstanding inventions and literary works.
Nobel died on December 10, 1896, and the first Nobel Prizes were awarded on the anniversary of his death on December 10, 1901. Since then, they have been awarded each year except during World War II.
Each Nobel Prize laureate receives a gold medal, a diploma, and a sum of money which is almost 1 million US dollars.
There are many famous people who have received the Nobel Prize, for example Albert Einstein, Marie Sklodowska-Curie, Ernest Hemingway, and Mother Teresa.
Difficult words: prestigious (honored), donate (to give), fortune (a lot of money), award (a prize for something good), outstanding (extremely good), laureate (somebody who got an important prize).
What other Nobel Prize laureates have made a lasting impact on the world?
LEARN 3000 WORDS with DAYS IN LEVELS
Days in Levels is designed to teach you 3000 words in English. Please follow the instructions
below.
How to improve your English with Days in Levels: 

Test
Do the test at Test Languages.
Go to your level. Go to Level 1 if you know 1-1000 words. Go to Level 2 if you know 1000-2000 words. Go to Level 3 if you know 2000-3000 words.

Reading
Read two new articles article at Days in Levels every day.
Read one previous article too and check if you remember all new words.

Listening
Listen to the new article and read the text at the same time.
Listen to the new article without reading the text.

Writing
Answer the question under the new article and write your answer in the comments.