The day the most famous formula was published – level 1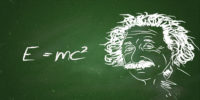 27-09-1905
In 1905, Albert Einstein is a young man. He works for a patent office in Switzerland. He also works on his theories about the universe.
It is September 27. Einstein publishes his very famous formula, E=mc². The formula says that inside a small solid object is a lot of energy.
Later, people use this formula when they make an atomic bomb.
Difficult words: patent (an official document which shows that you are the author of a new product), theory (an idea with reasons for why it is true), publish (to write in a newspaper, a magazine, or a book), formula (some letters and numbers which show a scientific idea called a law), solid (hard).
What other applications of Einstein's famous formula have been developed since its discovery in 1905?
LEARN 3000 WORDS with DAYS IN LEVELS
Days in Levels is designed to teach you 3000 words in English. Please follow the instructions
below.
How to improve your English with Days in Levels: 

Test
Do the test at Test Languages.
Go to your level. Go to Level 1 if you know 1-1000 words. Go to Level 2 if you know 1000-2000 words. Go to Level 3 if you know 2000-3000 words.

Reading
Read two new articles article at Days in Levels every day.
Read one previous article too and check if you remember all new words.

Listening
Listen to the new article and read the text at the same time.
Listen to the new article without reading the text.

Writing
Answer the question under the new article and write your answer in the comments.