The day the Mona Lisa was stolen – level 2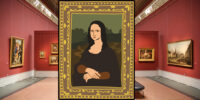 21-08-1911
Vincenzo Peruggia was an Italian museum worker. He worked in the Louvre in Paris, France. The Mona Lisa by Leonardo da Vinci was also a part of the exhibition.
On August 21, 1911, the museum was closed. Only museum workers were there.
Peruggia went to the room where the Mona Lisa was. Nobody was there. He took the painting from the wall. He put his coat around the painting, took it under his arm, and left the museum. Nobody stopped him on the way.
Peruggia kept the painting hidden in his apartment in Paris for two years. Then he returned to Italy with it. He kept it in his apartment in Florence for some time.
Then he contacted an owner of an art gallery. Peruggia wanted to sell the Mona Lisa to him. However, the art gallery owner informed the police, and Peruggia was arrested.
In the following days, the Mona Lisa was exhibited all over Italy. People were happy to see it. Then it was returned to the Louvre. After this moment, the painting was more famous than before.
Difficult words: the Louvre (a big museum in Paris), exhibition (a show of paintings), however (but), arrested (taken to prison).
What effect did the theft of the Mona Lisa have on art in general?
LEARN 3000 WORDS with DAYS IN LEVELS
Days in Levels is designed to teach you 3000 words in English. Please follow the instructions
below.
How to improve your English with Days in Levels: 

Test
Do the test at Test Languages.
Go to your level. Go to Level 1 if you know 1-1000 words. Go to Level 2 if you know 1000-2000 words. Go to Level 3 if you know 2000-3000 words.

Reading
Read two new articles article at Days in Levels every day.
Read one previous article too and check if you remember all new words.

Listening
Listen to the new article and read the text at the same time.
Listen to the new article without reading the text.

Writing
Answer the question under the new article and write your answer in the comments.