The day the Mafia killed Giovanni Falcone – level 1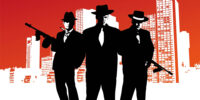 23-05-1992
Giovanni Falcone is from Sicily. He studies law. He wants to be a judge. In 1978, he starts to work in Palermo. In 1978, the Mafia in Sicily is very strong. The Mafia kills people who are against it.
Falcone works very hard against the Mafia. In 1986, Falcone sends many Mafia members to prison. The biggest boss was still free.
Falcone continues his work against the Mafia. The Mafia wants to kill him.
It is May 23, 1992. Falcone comes to Palermo Airport. The Mafia puts a big bomb under the road. When Falcone is near, the bomb explodes. Falcone is dead.
Normal people are very angry. They protest in the streets. They don't like that the Mafia stops people. After the protests, the police catch many Mafia members. The police catch the biggest boss, too.
Difficult words: law (a system of rules for one country), judge (a person who sends criminals to prison), explode (to change quickly into many small pieces).
What action could have been taken by the law enforcement to protect Giovanni Falcone from the Mafia?
LEARN 3000 WORDS with DAYS IN LEVELS
Days in Levels is designed to teach you 3000 words in English. Please follow the instructions
below.
How to improve your English with Days in Levels: 

Test
Do the test at Test Languages.
Go to your level. Go to Level 1 if you know 1-1000 words. Go to Level 2 if you know 1000-2000 words. Go to Level 3 if you know 2000-3000 words.

Reading
Read two new articles article at Days in Levels every day.
Read one previous article too and check if you remember all new words.

Listening
Listen to the new article and read the text at the same time.
Listen to the new article without reading the text.

Writing
Answer the question under the new article and write your answer in the comments.