The day the lowest temperature was recorded on Earth – level 2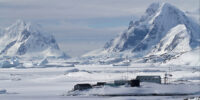 21-07-1983
The lowest temperature ever recorded on Earth was on July 21, 1983. It was at the Soviet Union's Vostok Station in Antarctica. The recorded temperature was -89.2 degrees Celsius. The temperature was measured very carefully.
Vostok Station was established by the Soviet Union. It is located 3,488 meters above the sea. It is 1,300 km from the South Pole.
During the summer, 30 people live and work there. They are scientists and engineers. In the winter, there are only 15 people at the station.
Difficult words: establish (to start), to be located (to be in some place), scientist (a person who works in science).
What are the living and working conditions like at Vostok Station during the winter months?
LEARN 3000 WORDS with DAYS IN LEVELS
Days in Levels is designed to teach you 3000 words in English. Please follow the instructions
below.
How to improve your English with Days in Levels: 

Test
Do the test at Test Languages.
Go to your level. Go to Level 1 if you know 1-1000 words. Go to Level 2 if you know 1000-2000 words. Go to Level 3 if you know 2000-3000 words.

Reading
Read two new articles article at Days in Levels every day.
Read one previous article too and check if you remember all new words.

Listening
Listen to the new article and read the text at the same time.
Listen to the new article without reading the text.

Writing
Answer the question under the new article and write your answer in the comments.