The day the light bulb was invented – level 1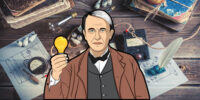 21-10-1879
People do the first experiments with electric light at the beginning of the 19th century. One man from England sends electricity through a piece of platinum and it starts to make light.
Yet people need 50 more years to make a light bulb which can make light longer. They need to have the right material.
Thomas Edison wants to find the right material. He has a good team. They work very hard.
On October 21, 1879, Edison makes a new type of light bulb. This bulb makes light for 13 and a half hours.
The newspapers write about a big triumph. However, Edison is not happy. He wants a light bulb which can make light much longer. Men in his team do thousands of other tests.
Then they discover that a material from bamboo can make light for a thousand hours.
Now people all around the world can use the light bulb.
Difficult words: century (100 years), platinum (a silver-grey metal), light bulb (a thing from glass and metal which makes light), triumph (a big success), bamboo (a tall plant which is used for furniture).
What challenges did Thomas Edison and his team face while developing the light bulb?
LEARN 3000 WORDS with DAYS IN LEVELS
Days in Levels is designed to teach you 3000 words in English. Please follow the instructions
below.
How to improve your English with Days in Levels: 

Test
Do the test at Test Languages.
Go to your level. Go to Level 1 if you know 1-1000 words. Go to Level 2 if you know 1000-2000 words. Go to Level 3 if you know 2000-3000 words.

Reading
Read two new articles article at Days in Levels every day.
Read one previous article too and check if you remember all new words.

Listening
Listen to the new article and read the text at the same time.
Listen to the new article without reading the text.

Writing
Answer the question under the new article and write your answer in the comments.