The day the Leningrad Blockade started – level 2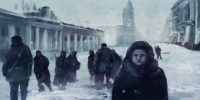 08-09-1941
The blockade of Leningrad began on September 8, 1941, when the Germans closed the last road to the city. Life in the closed city was horrible. Many people were extremely hungry. In winter, the temperatures went down to minus 30 degrees.
The Russians managed to bring some supplies to the city over a nearby lake. They supplied the city by ships in summer and by cars in winter when strong ice formed over the lake. The supply teams were under frequent attacks from the Germans.
The blockade was 872 days long. More than one million people died.
Difficult words: blockade (a situation when people stop other people from going in or out of some place), supplies (food, medicines, and clothes for an army or people in a war), nearby (not far), frequent (very often).
What achievements of the citizens of Leningrad can be seen today as a result of their resilience during the 872-day siege?
LEARN 3000 WORDS with DAYS IN LEVELS
Days in Levels is designed to teach you 3000 words in English. Please follow the instructions
below.
How to improve your English with Days in Levels: 

Test
Do the test at Test Languages.
Go to your level. Go to Level 1 if you know 1-1000 words. Go to Level 2 if you know 1000-2000 words. Go to Level 3 if you know 2000-3000 words.

Reading
Read two new articles article at Days in Levels every day.
Read one previous article too and check if you remember all new words.

Listening
Listen to the new article and read the text at the same time.
Listen to the new article without reading the text.

Writing
Answer the question under the new article and write your answer in the comments.