The day the Leningrad Blockade started – level 1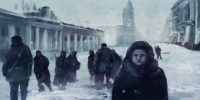 08-09-1941
Leningrad is a big city in Russia. It is September 8, 1941. The Germans close all roads to the city.
Life in the closed city is horrible. Many people are very hungry. In winter, the temperatures go down to minus 30.
The Russians bring some food to the city over a lake which is nearby. The Russians bring food by ships in summer. They bring food by cars in winter when strong ice is on the lake.
This city is closed for 872 days. More than one million people die.
Difficult words: horrible (very bad), lake (a place with a lot of water).
What strategies did the people of Leningrad use to survive during the Siege?
LEARN 3000 WORDS with DAYS IN LEVELS
Days in Levels is designed to teach you 3000 words in English. Please follow the instructions
below.
How to improve your English with Days in Levels: 

Test
Do the test at Test Languages.
Go to your level. Go to Level 1 if you know 1-1000 words. Go to Level 2 if you know 1000-2000 words. Go to Level 3 if you know 2000-3000 words.

Reading
Read two new articles article at Days in Levels every day.
Read one previous article too and check if you remember all new words.

Listening
Listen to the new article and read the text at the same time.
Listen to the new article without reading the text.

Writing
Answer the question under the new article and write your answer in the comments.