The day the last emperor of Russia died – level 3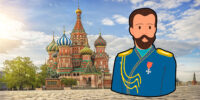 17-07-1918
Nicholas II was a Russian tsar whose dynasty had been on the Russian throne for over 300 years. He started his rule in 1894. He and his wife had 5 children.
In 1917, a revolution came and Nicholas abdicated. The Bolsheviks held Nicholas and his family as prisoners in one house in Yekaterinburg.
On July 17, 1918, the royal family was woken up at around 2 a.m. They were taken into a room in the basement. Their doctor and three of their servants were with them, too.
10 men with guns came to the basement. They told Nicholas that the Soviet leaders decided to execute them. Then they drew their guns and began shooting. Nicholas was the first to die.
Four members of the family survived the first shooting. Some of them were wearing over 1.3 kilograms of diamonds and precious gems which were part of their clothing and provided some initial protection from the bullets. They were then stabbed with bayonets and finally shot at close range in their heads.
The dead bodies were burned and thrown into an old mineshaft.
Difficult words: Bolshevik (a person who supported the Communist party in Russia after 1917), servant (a person who cleans a house and cooks for the owners), drew (to take out), execute (to kill as a punishment), precious (very valuable and important), gem (a beautiful stone), stab (to push a knife into a person), range (distance), mineshaft (a hole that goes in the ground to a mine).
What led to the downfall of the Romanov dynasty?
LEARN 3000 WORDS with DAYS IN LEVELS
Days in Levels is designed to teach you 3000 words in English. Please follow the instructions
below.
How to improve your English with Days in Levels: 

Test
Do the test at Test Languages.
Go to your level. Go to Level 1 if you know 1-1000 words. Go to Level 2 if you know 1000-2000 words. Go to Level 3 if you know 2000-3000 words.

Reading
Read two new articles article at Days in Levels every day.
Read one previous article too and check if you remember all new words.

Listening
Listen to the new article and read the text at the same time.
Listen to the new article without reading the text.

Writing
Answer the question under the new article and write your answer in the comments.