The day the last emperor of China abdicated – level 3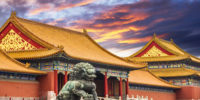 12-02-1912
The last Chinese emperor, Puyi, was born in 1906. He came to the throne after the empress's death in 1908. He was only two years and 10 months old.
Three years later, a revolution broke out in China. The people wanted to abolish the empire and replace it with a republic. The revolution was successful and Puyi was forced to abdicate on February 12, 1912. However, he could keep extensive privileges and continued to live with his court in the Forbidden City.
In 1932, the Japanese invaded China and created a new state on its territory. The Japanese made Puyi an emperor of this new state. However, he was just a puppet in the hands of the Japanese.
At the end of World War II, Puyi was arrested by the Soviets. He was then sent back to China where he was sent to a re-education camp for 10 years. After his release, he became a regular citizen. He worked as a gardener. He died at the age of 61 in Beijing.
Difficult words: empress (a female leader of an empire), break out (to start), abolish (to officially end something), abdicate (to give up the position of being an emperor), court (the family, friends and advisers of a king), Forbidden City (an area where only the emperor, his family, and servants could go), puppet (a leader who allows others to control him).
What were the main features of the Chinese empire during Puyi's reign?
LEARN 3000 WORDS with DAYS IN LEVELS
Days in Levels is designed to teach you 3000 words in English. Please follow the instructions
below.
How to improve your English with Days in Levels: 

Test
Do the test at Test Languages.
Go to your level. Go to Level 1 if you know 1-1000 words. Go to Level 2 if you know 1000-2000 words. Go to Level 3 if you know 2000-3000 words.

Reading
Read two new articles article at Days in Levels every day.
Read one previous article too and check if you remember all new words.

Listening
Listen to the new article and read the text at the same time.
Listen to the new article without reading the text.

Writing
Answer the question under the new article and write your answer in the comments.