The day the Hollywood Walk of Fame was created – level 3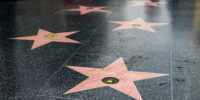 08-02-1960
The idea to decorate Hollywood Boulevard with stars appeared as early as 1953. However, it wasn't realized until 1960.
First, 1,558 names were selected, from which 8 famous people were randomly chosen. The first stars were prepared for them. The ceremonial placement of these stars on the sidewalk took place on February 8, 1960. Subsequently, stars were made also for other celebrities.
Today, there are more than 2,600 of these stars in Hollywood. Each star bears a name famous for film, television, radio, music, or theater. The stars are like a gallery of celebrities from show business.
Anyone can nominate a famous person for a star. However, the condition is that the celebrity confirms it. The nominee must have been in the profession for at least 5 years, has to promise to attend the ceremony, and to pay a cost of $50,000. However, this money is usually not paid by the artists themselves but by his fan clubs or production companies.
Each year approximately 20 celebrities are selected, whose stars will appear on the sidewalk next year.
Today, the Walk of Fame is already two and a half kilometers long.
Difficult words: randomly (without a system, by chance), subsequently (after something), nominee (a person who was suggested for a prize), approximately (about).
What was the first star to be placed on Hollywood Boulevard?
LEARN 3000 WORDS with DAYS IN LEVELS
Days in Levels is designed to teach you 3000 words in English. Please follow the instructions
below.
How to improve your English with Days in Levels: 

Test
Do the test at Test Languages.
Go to your level. Go to Level 1 if you know 1-1000 words. Go to Level 2 if you know 1000-2000 words. Go to Level 3 if you know 2000-3000 words.

Reading
Read two new articles article at Days in Levels every day.
Read one previous article too and check if you remember all new words.

Listening
Listen to the new article and read the text at the same time.
Listen to the new article without reading the text.

Writing
Answer the question under the new article and write your answer in the comments.