The day the history of New York began – level 2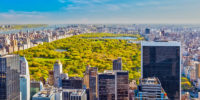 02-02-1653
Before the first European came to the area of today's New York, about 5,000 Indians were living peacefully there. In 1524, the Italian Giovanni da Verrazzano was the first European who visited this area. He served the French king and declared the territory a French colony.
In 1626, the Dutch colonizer Peter Minuit bought the island of Manhattan from the Indians. He named it New Amsterdam. The Dutch declared it a town on February 2, 1653. New Amsterdam was a good port and had an ideal location for business.
Nine years later, the British wanted the place for themselves and started a war with the Dutch. The British won and renamed the colony New York.
A century later, the American War of Independence started. The Americans were fighting the British. The Americans won and in 1785, New York was declared the capital of the US.
In the coming years, New York became the city where people spoke many languages. It was known as Babylon on the Hudson River. Some people also called it 'The Big Apple' or 'The City That Never Sleeps'.
Difficult words: declare (to say officially that some situation exists), port (a place in a town where ships can stop), ideal (perfect), century (100 years), that (which).
What were the primary goods that made New Amsterdam an ideal port for trade?
LEARN 3000 WORDS with DAYS IN LEVELS
Days in Levels is designed to teach you 3000 words in English. Please follow the instructions
below.
How to improve your English with Days in Levels: 

Test
Do the test at Test Languages.
Go to your level. Go to Level 1 if you know 1-1000 words. Go to Level 2 if you know 1000-2000 words. Go to Level 3 if you know 2000-3000 words.

Reading
Read two new articles article at Days in Levels every day.
Read one previous article too and check if you remember all new words.

Listening
Listen to the new article and read the text at the same time.
Listen to the new article without reading the text.

Writing
Answer the question under the new article and write your answer in the comments.