The day the Gulf War started – level 3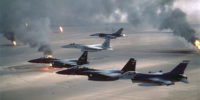 17-01-2010
Iraq, ruined by the 8-year war with Iran, was unable to repay its billions in debt, and no one wanted to provide further loans. So the Iraq leader Saddam Hussein chose a different tactic. He accused neighboring Kuwait, to which Iraq owed $ 15 billion, of stealing oil from its territory. Kuwait denied it.
On August 2, 1990, the Iraqi Army invaded and occupied Kuwait.
Saddam Hussein declared Kuwait his province, installed a new government there, and arrested those who stood up to him.
The situation wasn't good for Saudi Arabia. When Saudi Arabia asked the United States to enter its territory to protect it, the Americans didn't hesitate.
On January 17, 1991, an American air attack began. A few weeks later, the second ground phase of the attack began. Kuwait was liberated and the war ended. The ground fighting lasted only 100 hours.
Difficult words: accuse (say that somebody did something bad), owe (have a debt), deny (say that something isn't true), province (an area of a country).
What were Saddam Hussein's motivations for invading Kuwait?
LEARN 3000 WORDS with DAYS IN LEVELS
Days in Levels is designed to teach you 3000 words in English. Please follow the instructions
below.
How to improve your English with Days in Levels: 

Test
Do the test at Test Languages.
Go to your level. Go to Level 1 if you know 1-1000 words. Go to Level 2 if you know 1000-2000 words. Go to Level 3 if you know 2000-3000 words.

Reading
Read two new articles article at Days in Levels every day.
Read one previous article too and check if you remember all new words.

Listening
Listen to the new article and read the text at the same time.
Listen to the new article without reading the text.

Writing
Answer the question under the new article and write your answer in the comments.