The day the Gulf War started – level 2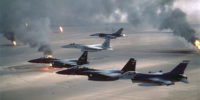 17-01-2010
After the war with Iran, Iraq had big debts which it couldn't pay. Nobody wanted to give Iraq more money. Iraqi leader Saddam Hussein chose a different tactic. He said that Kuwait was stealing oil from Iraqi territory. Kuwait said that it wasn't true.
On August 2, 1990, the Iraqi Army took over Kuwait. Saddam Hussein put his government there, and he arrested people who didn't agree with him.
The situation wasn't good for Saudi Arabia. When Saudi Arabia asked the United States for help, the Americans said yes.
On January 17, 1991 an American air attack started. A few weeks later, the ground attack started. Kuwait was freed and the war ended. The ground operation was only 100 hours long.
Difficult words: debt (money which you must pay to somebody), tactic (a strategy, an idea), a few (several).
What factors influenced the American decision to intervene in the Iraqi-Kuwait conflict?
LEARN 3000 WORDS with DAYS IN LEVELS
Days in Levels is designed to teach you 3000 words in English. Please follow the instructions
below.
How to improve your English with Days in Levels: 

Test
Do the test at Test Languages.
Go to your level. Go to Level 1 if you know 1-1000 words. Go to Level 2 if you know 1000-2000 words. Go to Level 3 if you know 2000-3000 words.

Reading
Read two new articles article at Days in Levels every day.
Read one previous article too and check if you remember all new words.

Listening
Listen to the new article and read the text at the same time.
Listen to the new article without reading the text.

Writing
Answer the question under the new article and write your answer in the comments.