The day the Guinness Book of Records was published – level 1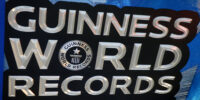 27-08-1955
People in England can buy the first Guinness Book of Records on August 27, 1955.
It has 198 pages. It has many records, for example the tallest man, the heaviest twins, the longest television show, and the highest mountain.
It has also world sports records, for example the fastest mile, the highest jump, and the longest distance which people can swim underwater. These records are very popular.
The Guinness Book of Records is a big hit. People quickly buy all 50,000 copies of the book. The book starts to be popular in other countries too. People can buy a new Guinness Book of Records every year.
Difficult words: twins (two children which are the same), mile (1,609 meters).
What other world records did the first edition of the Guinness Book of Records include?
LEARN 3000 WORDS with DAYS IN LEVELS
Days in Levels is designed to teach you 3000 words in English. Please follow the instructions
below.
How to improve your English with Days in Levels: 

Test
Do the test at Test Languages.
Go to your level. Go to Level 1 if you know 1-1000 words. Go to Level 2 if you know 1000-2000 words. Go to Level 3 if you know 2000-3000 words.

Reading
Read two new articles article at Days in Levels every day.
Read one previous article too and check if you remember all new words.

Listening
Listen to the new article and read the text at the same time.
Listen to the new article without reading the text.

Writing
Answer the question under the new article and write your answer in the comments.