The day the Great Fire of Rome started – level 1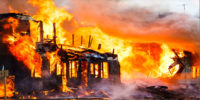 19-07-64 AD
It is July 19, 64 AD. A big fire starts in Rome. The fire starts in the shops. The weather is dry. There is wind. The fire jumps quickly to other buildings.
After nine days, the fire is finished. 70 percent of Rome is destroyed.
Nero is the emperor of Rome. People don't like him. People start to think that Nero started the fire because he wanted space for his new big house.
Nero says that he didn't start the fire. Nero says that Christians started the fire.
Difficult words: destroyed (very broken), emperor (a king of a big place), started (start in the past), wanted (want in the past), didn't (don't in the past), Christian (a person who believes in the ideas of Jesus Christ).
What evidence does Nero have to support his claim that Christians started the fire?
LEARN 3000 WORDS with DAYS IN LEVELS
Days in Levels is designed to teach you 3000 words in English. Please follow the instructions
below.
How to improve your English with Days in Levels: 

Test
Do the test at Test Languages.
Go to your level. Go to Level 1 if you know 1-1000 words. Go to Level 2 if you know 1000-2000 words. Go to Level 3 if you know 2000-3000 words.

Reading
Read two new articles article at Days in Levels every day.
Read one previous article too and check if you remember all new words.

Listening
Listen to the new article and read the text at the same time.
Listen to the new article without reading the text.

Writing
Answer the question under the new article and write your answer in the comments.