The day the Golden Gate Bridge construction started – level 2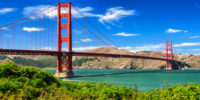 05-01-1933
The Golden Gate Bridge is one of the biggest symbols of San Francisco. Its construction began on January 5, 1933. The project cost more than $35 million. At the time of its opening in 1937, it was one of the biggest bridges in the world. The bridge is 1,280 meters long and 227 meters tall.
The bridge is an amazing piece of engineering and there are many interesting facts about the bridge.
In June 1935, an earthquake hit the bridge before it was even completed. The top of the tower started moving back and forth 5 meters in both directions. There were 12 men on top of the tower at the time of the earthquake, and they had no way to get down. Luckily, they all survived.
The bridge's orange color was originally intended just as a basic color. However, people liked it and the architect decided not to change it.
It cost $0.50 to cross the Golden Gate Bridge in 1937.
A safety net under the bridge saved the lives of 19 men during its construction.
Difficult words: back and forth (here and there), intended (planned), architect (a person who builds things).
What other interesting engineering innovations were implemented during the construction of the Golden Gate Bridge?
LEARN 3000 WORDS with DAYS IN LEVELS
Days in Levels is designed to teach you 3000 words in English. Please follow the instructions
below.
How to improve your English with Days in Levels: 

Test
Do the test at Test Languages.
Go to your level. Go to Level 1 if you know 1-1000 words. Go to Level 2 if you know 1000-2000 words. Go to Level 3 if you know 2000-3000 words.

Reading
Read two new articles article at Days in Levels every day.
Read one previous article too and check if you remember all new words.

Listening
Listen to the new article and read the text at the same time.
Listen to the new article without reading the text.

Writing
Answer the question under the new article and write your answer in the comments.