The day the Golden Gate Bridge construction started – level 1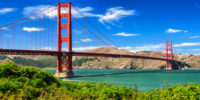 05-01-1933
The Golden Gate Bridge is a symbol of San Francisco. Its construction starts on January 5, 1933. The work costs $35 million. It is open in 1937. It is a very big bridge. The bridge is 1,280 meters long and 227 meters tall.
There are many interesting facts about the bridge.
In June 1935, an earthquake comes. The top of the tower starts to move a lot. The top goes 5 meters in one direction. Then the top goes 5 meters in the opposite direction. Twelve men are on top of the tower. They can't go down. They must hold on. They are all OK.
The first color of the bridge is orange. The builder wants to change the color. However, people like this orange color. The color stays.
If you want to cross the bridge in 1937, you must pay $0.50.
A net under the bridge saves the lives of 19 men during the construction.
Difficult words: symbol (a picture that is important to a place or a thing), construction (the process when you build something), earthquake (when the earth moves), during (in the time of).
What other disasters occurred during the construction of the Golden Gate Bridge?
LEARN 3000 WORDS with DAYS IN LEVELS
Days in Levels is designed to teach you 3000 words in English. Please follow the instructions
below.
How to improve your English with Days in Levels: 

Test
Do the test at Test Languages.
Go to your level. Go to Level 1 if you know 1-1000 words. Go to Level 2 if you know 1000-2000 words. Go to Level 3 if you know 2000-3000 words.

Reading
Read two new articles article at Days in Levels every day.
Read one previous article too and check if you remember all new words.

Listening
Listen to the new article and read the text at the same time.
Listen to the new article without reading the text.

Writing
Answer the question under the new article and write your answer in the comments.