The day the Germans lost the battle of Stalingrad – level 1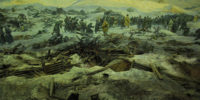 02-02-1943
It is August 23, 1942. The Germans start the battle for the city of Stalingrad. They need to control Stalingrad if they want to control the oil fields in the south.
First, German planes bomb the city. Then, the German soldiers go to the city. Big and long fights start. Both sides are fighting for every building. The Russian defense is strong. But they are slowly losing the city.
On November 19, 1942, the situation changes. A lot of new Russian soldiers come to fight at Stalingrad. They make a circle around German soldiers in the city. The Germans can't get more bullets and food. Their situation starts to be bad. They are cold and hungry.
On February 2, 1943, the Germans stop the fight. The battle is finished. The Russians win.
As a result, the city of Stalingrad is totally destroyed. 2 million people are dead or injured.
Difficult words: battle (a big fight between two armies), oil fields (a place where you can get oil which you use to make fuel, gasoline, or petrol),both (two), circle (a shape like a letter O), totally (completely), destroyed (to be broken into many pieces), injured (when some part of your body is broken).
Who won the battle for Stalingrad?
LEARN 3000 WORDS with DAYS IN LEVELS
Days in Levels is designed to teach you 3000 words in English. Please follow the instructions
below.
How to improve your English with Days in Levels: 

Test
Do the test at Test Languages.
Go to your level. Go to Level 1 if you know 1-1000 words. Go to Level 2 if you know 1000-2000 words. Go to Level 3 if you know 2000-3000 words.

Reading
Read two new articles article at Days in Levels every day.
Read one previous article too and check if you remember all new words.

Listening
Listen to the new article and read the text at the same time.
Listen to the new article without reading the text.

Writing
Answer the question under the new article and write your answer in the comments.