The day the first website was published – level 3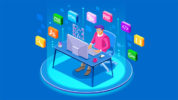 06-08-1991
Tim Berners-Lee was born in London in 1955. Both his parents were computer scientists. Tim made his first computer during his university years.
After his studies, he started to work in Switzerland. In 1980, he created a program that was able to connect two computers within one company. It was great, but Tim wanted more. He wanted to connect the computers of any two people. He invented the HTML programming language that made it possible.
On August 6, 1989, he published the first-ever website on the Internet. It was the beginning of the next phase in the information revolution. Thanks to his invention, today we can get information from all over the world with just a few clicks.
Difficult words: within (inside an organization), invent (to design something new), ever (in history), invention (a new instrument that helps people).
What motivated Tim Berners-Lee to create a program that could connect two computers within one company and then later the HTML programming language to connect computers of any two people?
LEARN 3000 WORDS with DAYS IN LEVELS
Days in Levels is designed to teach you 3000 words in English. Please follow the instructions
below.
How to improve your English with Days in Levels: 

Test
Do the test at Test Languages.
Go to your level. Go to Level 1 if you know 1-1000 words. Go to Level 2 if you know 1000-2000 words. Go to Level 3 if you know 2000-3000 words.

Reading
Read two new articles article at Days in Levels every day.
Read one previous article too and check if you remember all new words.

Listening
Listen to the new article and read the text at the same time.
Listen to the new article without reading the text.

Writing
Answer the question under the new article and write your answer in the comments.