The day the first undersea cable was laid across the Atlantic – level 1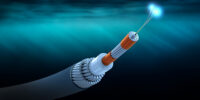 05-08-1858
On August 5, 1858, people connect North America and Europe with a cable. The cable goes underwater.
The cable is 4,600 kilometers long. The cable is made of copper. People use the cable to send messages.
Two ships put the cable under water. The ships meet in the middle of the Atlantic. People connect the two ends of the cable there.
The first message is a letter from Queen Victoria to the president of the United States.
The cable works for only three weeks. Then the connection breaks.
Difficult words: cable (a tube which has wires inside), copper (a soft red-brown metal).
What methods were used to test the cable before it was laid underwater?
LEARN 3000 WORDS with DAYS IN LEVELS
Days in Levels is designed to teach you 3000 words in English. Please follow the instructions
below.
How to improve your English with Days in Levels: 

Test
Do the test at Test Languages.
Go to your level. Go to Level 1 if you know 1-1000 words. Go to Level 2 if you know 1000-2000 words. Go to Level 3 if you know 2000-3000 words.

Reading
Read two new articles article at Days in Levels every day.
Read one previous article too and check if you remember all new words.

Listening
Listen to the new article and read the text at the same time.
Listen to the new article without reading the text.

Writing
Answer the question under the new article and write your answer in the comments.