The day the first satellite was launched – level 3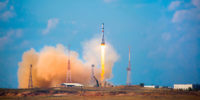 04-10-1957
It was one of the most famous objects ever created by a human hand. The first artificial satellite called Sputnik launched the space race between the Soviet Union and the United States.
The diameter of the satellite was 58 centimeters and the total weight was over 80 kilograms. Sputnik was made of two aluminum hemispheres, in which two transmitters, batteries, a ventilation system, and sensors for determining temperature and pressure were located.
It was launched on October 4, 1957, from the Baikonur Cosmodrome. It was the moment the first man-made object entered orbit.
Big celebrations broke out in the Soviet Union, and people lined up with binoculars to see the star moving across the sky.
The United States responded by setting up their space agency, NASA.
Difficult words: launch (to start), diameter (width of a circle), aluminium (a very light silver-light metal), transmitter (a machine which sends signals), ventilation (a system to let air move), set up (to establish/start).
What do you think about this day?
LEARN 3000 WORDS with DAYS IN LEVELS
Days in Levels is designed to teach you 3000 words in English. Please follow the instructions
below.
How to improve your English with Days in Levels: 

Test
Do the test at Test Languages.
Go to your level. Go to Level 1 if you know 1-1000 words. Go to Level 2 if you know 1000-2000 words. Go to Level 3 if you know 2000-3000 words.

Reading
Read two new articles article at Days in Levels every day.
Read one previous article too and check if you remember all new words.

Listening
Listen to the new article and read the text at the same time.
Listen to the new article without reading the text.

Writing
Answer the question under the new article and write your answer in the comments.