The day the first satellite was launched – level 1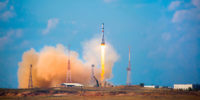 04-10-1957
Sputnik is very famous. It is the first satellite. It starts the space race between the Soviet Union and the United States.
The satellite is 8 centimeters wide. It is 80 kilograms heavy. Sputnik is made of aluminum.
Sputnik starts its way on October 4, 1957. It goes from the Baikonur Cosmodrome. It is the moment when the first man-made object goes into space.
Big celebrations start in the Soviet Union. Many people watch Sputnik in the night sky.
Soon after this moment, the United States starts NASA.
Difficult words: satellite (an object that moves around the Earth), space race (when a country tries to be better than the other in space development), aluminum (a very light silver metal), man-made (made by people).
What implications do you think the launch of Sputnik had on other nations around the world?
LEARN 3000 WORDS with DAYS IN LEVELS
Days in Levels is designed to teach you 3000 words in English. Please follow the instructions
below.
How to improve your English with Days in Levels: 

Test
Do the test at Test Languages.
Go to your level. Go to Level 1 if you know 1-1000 words. Go to Level 2 if you know 1000-2000 words. Go to Level 3 if you know 2000-3000 words.

Reading
Read two new articles article at Days in Levels every day.
Read one previous article too and check if you remember all new words.

Listening
Listen to the new article and read the text at the same time.
Listen to the new article without reading the text.

Writing
Answer the question under the new article and write your answer in the comments.