The day the first person went into space – level 2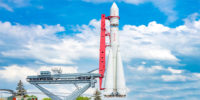 12-04-1961
Yuri Gagarin was 27 years old when he was preparing for his space flight. The training for the flight took months, and he did it with five other candidates.
The training was extremely hard. They had to stay in a very hot room for 2 hours. They also had to stay alone in one room for fifteen days. They had to do parachute training.
In the end, the leaders chose Gagarin to go to space. He was a friendly person and he had a good name, Yuri, which represented the Soviet Union well.
On April 12, 1961, everything was ready at the Baikonur Cosmodrome in Kazakhstan, and Vostok 1 took Gagarin into space.
The flight was 108 minutes long. Gagarin reached a height of 327 kilometers and orbited the Earth once. Then Vostok 1 began to go down. When it reached a height of 7 kilometers, Gagarin catapulted and parachuted to the ground.
Gagarin suddenly became the most famous man on the planet.
Difficult words: orbit (to fly around the Earth in space), catapult (to throw very quickly into the air), suddenly (quickly and unexpectedly).
What do you think about this day?
LEARN 3000 WORDS with DAYS IN LEVELS
Days in Levels is designed to teach you 3000 words in English. Please follow the instructions
below.
How to improve your English with Days in Levels: 

Test
Do the test at Test Languages.
Go to your level. Go to Level 1 if you know 1-1000 words. Go to Level 2 if you know 1000-2000 words. Go to Level 3 if you know 2000-3000 words.

Reading
Read two new articles article at Days in Levels every day.
Read one previous article too and check if you remember all new words.

Listening
Listen to the new article and read the text at the same time.
Listen to the new article without reading the text.

Writing
Answer the question under the new article and write your answer in the comments.