The day the first Oscars were awarded – level 3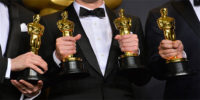 18-02-1929
Louis Mayer was a film producer in the 1920s. He wanted to give his actors some awards for their work to make their relationship stronger. That was why he founded an Academy that awarded prizes for films and acting every year.
The prize was a small gold statue, which weighed 4 kilos. Over time, it became known as the Oscar.
The Academy announced the first winners on February 18, 1929. Three months later, 270 people attended the ceremony where the awards were given to fifteen winners. The entry fee was $5, and the media interest in the first year was minimal. One of those who won the Oscar in 1929 was Charlie Chaplin for his film "Circus".
Much has changed since that time. Over the years, the Oscars have become a big show and their winners are known all over the world.
In total, more than 3,000 Oscars have been awarded.
Difficult words: award (a prize given for something special), found (to start an organization), Academy (a special organization that is about a certain type of work), acting (the job that actors do), media (television, radio, and newspaper).
What sparked the interest in film in the 1920s?
LEARN 3000 WORDS with DAYS IN LEVELS
Days in Levels is designed to teach you 3000 words in English. Please follow the instructions
below.
How to improve your English with Days in Levels: 

Test
Do the test at Test Languages.
Go to your level. Go to Level 1 if you know 1-1000 words. Go to Level 2 if you know 1000-2000 words. Go to Level 3 if you know 2000-3000 words.

Reading
Read two new articles article at Days in Levels every day.
Read one previous article too and check if you remember all new words.

Listening
Listen to the new article and read the text at the same time.
Listen to the new article without reading the text.

Writing
Answer the question under the new article and write your answer in the comments.