The day the first nonstop flight around the world started – level 2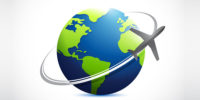 26-02-1949
On February 26, 1949, a special plane took off from a military base in Texas, US. There were 14 members of the crew on board. Its goal was to fly east for the whole flight. The mission was secret.
The first refueling was over the Azores, another over Saudi Arabia, over the Philippines, and over Hawaii. Bad weather over the Philippines caused a tragedy. The refueling planes crashed on its return. All crew members died. However, the mission continued.
On March 2, 1949, the plane returned to the base in Texas. The first flight around the Earth without a stop was completed. The plane flew almost 38,000 kilometers. Its crew spent 94 hours in the air.
After landing, the US general said, "We showed that we can send planes from the United States to any place in the world which needs the atomic bomb."
Difficult words: crew (all people who work on a plane), refueling (filling with fuel before continuing), cause (to create), however (but).
What was the purpose of this mission?
LEARN 3000 WORDS with DAYS IN LEVELS
Days in Levels is designed to teach you 3000 words in English. Please follow the instructions
below.
How to improve your English with Days in Levels: 

Test
Do the test at Test Languages.
Go to your level. Go to Level 1 if you know 1-1000 words. Go to Level 2 if you know 1000-2000 words. Go to Level 3 if you know 2000-3000 words.

Reading
Read two new articles article at Days in Levels every day.
Read one previous article too and check if you remember all new words.

Listening
Listen to the new article and read the text at the same time.
Listen to the new article without reading the text.

Writing
Answer the question under the new article and write your answer in the comments.