The day the first nonstop flight around the world started – level 1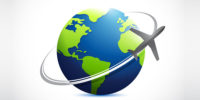 26-02-1949
It is February 26, 1949. A special plane flies from Texas, US. There are 14 people in this plane. They fly only east. They want to fly around the earth .
They need fuel. They get fuel from other planes. This happens four times: over the Azores, Saudi Arabia, the Philippines, and Hawaii.
On March 2, 1949, the plane returns back to Texas. The first flight around the Earth without a stop is finished. The flight is 38,000 kilometers long. The flight takes 94 hours.
The United States shows one important thing to the world. Now, Americans can send planes from the United States to all places in the world and use the atomic bomb.
Difficult words: fuel (energy for planes or cars), times (how often something happens), flight (a journey in a plane).
What do you think motivated the United States to make this flight around the world?
LEARN 3000 WORDS with DAYS IN LEVELS
Days in Levels is designed to teach you 3000 words in English. Please follow the instructions
below.
How to improve your English with Days in Levels: 

Test
Do the test at Test Languages.
Go to your level. Go to Level 1 if you know 1-1000 words. Go to Level 2 if you know 1000-2000 words. Go to Level 3 if you know 2000-3000 words.

Reading
Read two new articles article at Days in Levels every day.
Read one previous article too and check if you remember all new words.

Listening
Listen to the new article and read the text at the same time.
Listen to the new article without reading the text.

Writing
Answer the question under the new article and write your answer in the comments.