The day the first national park was established – level 1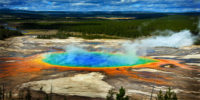 01-03-1872
Yellowstone is a beautiful place. In 1805, the first Europeans come to this area. They like the beautiful country.
More and more Europeans come. It is a big problem for the Indians who live there. The Indians die in fights or they must go away. After one hundred years, all the Indians are gone from Yellowstone.
In 1870, one writer visits the area. After his return, he says that the beautiful area needs protection.
Then the President of the USA also comes to see beautiful Yellowstone. After his visit, Yellowstone becomes a national park. It is on March 1, 1872. It is the first national park in the world.
Today, people can see many animals in the park. For example, the grizzly bear, black bear, coyote, and bison live there. Three million tourists visit the park every year.
Difficult words: fight (a situation when people attack other people), gone (away), protection (a situation when something is protected), become (to start to exist).
What problem did the Europeans bring to Yellowstone?
LEARN 3000 WORDS with DAYS IN LEVELS
Days in Levels is designed to teach you 3000 words in English. Please follow the instructions
below.
How to improve your English with Days in Levels: 

Test
Do the test at Test Languages.
Go to your level. Go to Level 1 if you know 1-1000 words. Go to Level 2 if you know 1000-2000 words. Go to Level 3 if you know 2000-3000 words.

Reading
Read two new articles article at Days in Levels every day.
Read one previous article too and check if you remember all new words.

Listening
Listen to the new article and read the text at the same time.
Listen to the new article without reading the text.

Writing
Answer the question under the new article and write your answer in the comments.