The day the first human heart was transplanted – level 2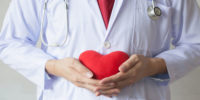 03-12-1967
There was a terrible car accident in Cape Town on December 2, 1967. A 25-year-old woman and her mother were hit by a driver who didn't see them. The mother died immediately, but her daughter was alive and was taken to hospital with horrible head injuries.
When the young woman arrived at the hospital, her heart was beating, but she was already dead because her brain wasn't working. There was nothing the doctors could do to save her.
When her father came to the hospital, doctors explained to him that they couldn't save his daughter, but her heart could help another patient. The father thought about it, and he allowed the doctors to transplant his daughter's heart to another patient. The patient was a 55-year-old man who had a lot of problems with his heart. A heart transplant was his only hope.
A team of thirty doctors, nurses and technicians around Doctor Christiaan Barnard completed the world's first human-to-human heart transplant successfully. The patient woke up after the operation and could speak with his wife and reporters. Sadly, he died only eighteen days after the transplant.
The operation was a really important moment in medical history. From that moment, people knew that it was possible to transplant the heart.
The care after the operations of transplanted organs became better and better. Today, 85% of patients survive after one year and 69 % survive after five years.
Difficult words: injury (a bad thing which happens to the body), patient (somebody who is ill), transplant (to move), allow (to let somebody do something), care (the process of helping somebody in hospital).
What technological advancements in the medical field have enabled patients to survive longer after a heart transplant today than in 1967?
LEARN 3000 WORDS with DAYS IN LEVELS
Days in Levels is designed to teach you 3000 words in English. Please follow the instructions
below.
How to improve your English with Days in Levels: 

Test
Do the test at Test Languages.
Go to your level. Go to Level 1 if you know 1-1000 words. Go to Level 2 if you know 1000-2000 words. Go to Level 3 if you know 2000-3000 words.

Reading
Read two new articles article at Days in Levels every day.
Read one previous article too and check if you remember all new words.

Listening
Listen to the new article and read the text at the same time.
Listen to the new article without reading the text.

Writing
Answer the question under the new article and write your answer in the comments.