The day the first gorilla was born in a zoo – level 2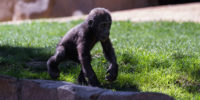 22-12-1956
The first gorilla was born in a zoo in the United States. It was on December 22, 1956. Her name was Colo. The beginning of her life wasn't easy. She was born two weeks early, and nobody knew that she was born.
When a keeper found her on the floor, there was no sign of life. The keeper began resuscitation immediately. People had little experience with resuscitation of animals at that time, but he managed to bring Colo to life.
But the problems didn't end there. Colo's mother wasn't able to take care of her. The zoo keepers had to take care of her non-stop.
When Colo grew up, she became very popular with zoo visitors. Ten times more people started to visit the zoo.
Colo was so popular that people started to be more interested in the life of gorillas. Many organizations began to work on the protection of gorillas in the wild.
Colo became a mother of three young gorillas.
She died when she was 60 years old, which is 25 years more than gorillas usually live in the wild.
Difficult words: sign (a thing which shows something), resuscitation (an activity which makes somebody breathe again), take care of (to do the necessary work to help somebody), times (used when you multiply something; it shows that a number is bigger).
What do you think are some of the challenges Colo faced in her 60 years of life?
LEARN 3000 WORDS with DAYS IN LEVELS
Days in Levels is designed to teach you 3000 words in English. Please follow the instructions
below.
How to improve your English with Days in Levels: 

Test
Do the test at Test Languages.
Go to your level. Go to Level 1 if you know 1-1000 words. Go to Level 2 if you know 1000-2000 words. Go to Level 3 if you know 2000-3000 words.

Reading
Read two new articles article at Days in Levels every day.
Read one previous article too and check if you remember all new words.

Listening
Listen to the new article and read the text at the same time.
Listen to the new article without reading the text.

Writing
Answer the question under the new article and write your answer in the comments.